News
Big Steps to a Sustainable Congress
Meaningful and sustainable marketing are at the heart of all BAM activities.

This article will give you more information about the responsible choices we make to organise a sustainable BAM Marketing Congress. What are we doing to reduce our footprint?
With the support of Duurzaam Kantoor.
This edition of the BAM Marketing Congress, on 8 and 9 December, will be a sustainable one. This is in line with BAM's vision to put sustainability at the centre.
"Of course sustainability is important to BAM," says Yves Van Durme, CEO of the association. "This is precisely why we wanted the Marketing Congress to be sustainable as well."
The BAM Marketing Congress edition on 8 and 9 December 2022 will be allowed to carry a sustainable label for the first time. "We take care of that as organisers, but especially the 50 to 60 suppliers and partners we work with," says Managing Director at OFCORES Jean-Baptiste De Bock. "With each of them, we looked at how we could take the step towards sustainability. For example, this time we opted for Brussels Gate as a new venue. At a lot of venues, you are obliged to work with their suppliers. Not here. That gives us more flexibility to choose sustainable partners, but it also makes certain things more challenging. You start in an empty building and are therefore in charge of everything yourself."
Six pillars
Besides the venue and waste, the event set-up, catering, goodie bag and communication were also considered. After all, to carry the "sustainable" label, an event must meet a number of conditions. A tailor-made checklist from Sustainable Office combined with an "ecoscan" by experts helps with this.
Congress organiser OFCORES was further assisted by Duurzaam Kantoor, a spin-off of Ecofest, which helps organisations design workplaces in a more sustainable way. "They helped us with the checklists and looking at the possibilities," says Jean-Baptiste. "During the event, they will also come on site to analyse everything and make further recommendations."
Walk the talk
For BAM, it is a further step in making all its activities and marketing in general more sustainable. For example, it is participating in the sector initiative Commtozero, and will ensure that all future events can carry the same label, starting with the BAM Student Congress in March 2023.
"For us, it's about walk the talk," concludes Yves Van Durme. "Our sustainbility think tank has been pulling the cart for a while. Soon its members will come up with a green paper offering angles for marketers. And next year we want to take even further steps with this group."
EVENT VENUE     ACCESSIBILITY    SET-UP MATERIALS    CATERING    PROMOTION    WASTE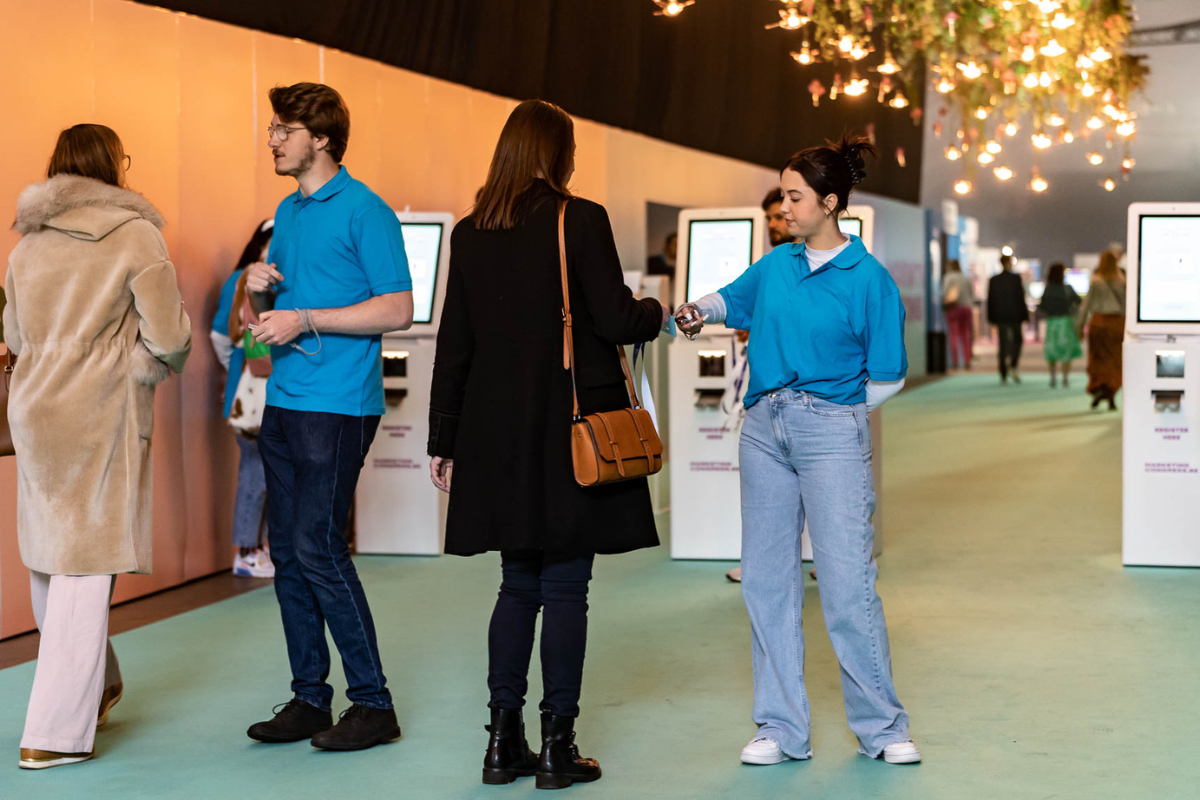 Location
The BAM Marketing Congress takes place at BRUSSELS GATE in Groot-Bijgaarden, near Brussels. We opted for a central location in Belgium to minimize travel and

transport as much as possible for our attendees, employees, and suppliers.

The event venue is in an industrial and business area, near to the Brussels Ring Road. There are no direct residential areas in the vicinity which means we will create no inconvenience for the neighborhood.
Energy and water savings
In the central zone/Marketing village we will lower the temperature to 20 degrees where in previous years 21 degrees was the standard. Given that 1 degree less already results in energy savings of 7%, we will achieve a significant saving.

In hall 2 (Marketing Village) we will use the infiltration of natural light to illuminate parts of the Congress zone, so that we can reduce the use of artificial light.

We will use LED-lights wherever possible.

We appoint an energy-saving manager who will ensure that after Congress opening hours, all electricity-consuming appliances - except fridges - will be switched off via a central system. He will also see to it that fridges remain closed during the event and no unnecessary energy consumers stay switched on.
Accessibility
The event venue is easily accessible by car, public transport, and bike. Through our website, newsletter, and social media, we encourage our visitors to use public transport as much as possible.

The station of Groot-Bijgaarden is at a 7 min. walk of the event venue and is easily accessible via a private road. An electric Audi shuttle will be at disposal.

There are several bus stops in the immediate vicinity of BRUSSELS GATE.

Both tram and busses offer connection to Brussels North and Brussels South train stations.

The venue is also accessible by bicycle or micro-mobility vehicles. A route planner with the cycling node network is available on our website.

Visitors who still wish to come to the Congress by car are encouraged to carpool. 

Brussels Gate is equipped to receive disabled people. The parking lot has special spaces for the disabled, right at the entrance. The parking ground is paved and there is a ramp to the entrance

of the event venue. The congress takes place on the ground

floor and the toilets are accessible.

Thanks to our car partner (Audi), an electric shuttle service will be available to bring our attendees in a comfortable and sustainable way to the entrance of the venue.
Event set-up
Our booths will be partly made of reused or recycled materials: aluminium frames, recyclable Re-board and wood with an FSC-label.
We opt for standardized structures, which are in stock at our suppliers or can be easily reused afterwards by other event
organisers.
We only provide carpet in the Congress zones and at the entrance. We use carpet tiles made of 100% recycled and recyclable fibres and/or solid cradle to cradle carpet. The tiles are cleaned by JMT and will be reused at other events.
We opt for furniture and decorative items that are reusable and recyclable and that are in stock or can be easily reused afterwards by other event organisers.
We work with 3Motion and Beelite on creative cardboard structures to decorate the venue.
Partners
Catering 
Catering will be provided by Witlof, a catering company from Brussels. The company's mission is to spread and convince sustainability philosophy in the event world. They do this with the help of hospitality, taste and style. Inspired by recipes from around the world, applied with local sustainable ingredients.

Pain Quotidien has been working for 30 years on a sustainability, climate and environmental programme, they will be responsible for the breakfast.

As sustainable event organizers we will ensure that they all use regional products and/or fresh, seasonal products.

Dishes will be well balanced considering nutritional values and at least one vegetarian option will be offered.

We won't use disposable tableware and there will be no excessive packaging (individually packaged milk, sauce, drinks, etc.).

The services of local entrepreneurs will be used for our staff food during the buildup, congress and breakdown.

Any surplus food left after the congress will go to the social economy/charity. Witlof works together with "Frigo Solidaire".
Partners
Drinks 
Coffee will be offered in reusable cups.

Our partners Duvel, Lillet and Coca Cola will offer their drinks (water, soft drinks & alcohol) in drinking glasses or glass bottles with sustainable straws in paper or bamboo. Duvel works with kegs and a tap system to reduce packaging waste.
Partners
Advertising, promotion & print work
For the promotion of the Marketing Congress, we will focus on a digital campaign

We will use recycled paper, cardboard and reusable materials as much as possible for printed materials.

We will avoid expensive banners and disposable flyers on-site to give visibility to our sponsors. We will use recyclable Re-board with eco-ink for our partner communication.

We don't use printed congress tickets. The bar code on the digital tickets can be

scanned on the attendees' smartphone at the entrance of the Congress. We ask our attendees not to print their tickets.

After the Congress, the colour films we use for the decoration of the windows will be donated to local schools as craft material for the children.

To inform our attendees how we have organized this congress in a sustainable way, we will share our initiatives via our owned media (website, social, newsletters).

In collaboration with Duurzaam Kantoor we will give our attendees on-site several Tips & Tricks in how they can be more sustainable within their own company.
Partners:
Goodie bags
We offer contemporary quality backpacks with subtle branding to get our attendees to reuse it.

We encourage our Congress partners to give us sustainable and reusable goodies and will avoid filling it will single-use plastics.

We will work with students from the Thomas More High School to centralize the collection and the transportation of the goodies in a sustainable way. This is part of a wider programme where the organiser teaches students about event management.
Partners:
Waste
We will reduce the overall amount of waste, in case of individual packaging, we make sure it is recyclable.

We will set up a proper waste management, with a separate sorting and recycling plan for front and backstage waste.

We will hire reusable containers and provide waste bins in corrugated cardboard.

Frontstage we will create sorting islands at different locations of the venue and more specifically at places where many people pass by such as the central entrance and exit and the entrances to the stages.

Smoking is not allowed on the event itself, only in a designated outdoor area at the entrance of the Congress. Special cigarette butt disposals will be provided in this area.

A dedicated person will be appointed to monitor the recycling rules, the condition and the emptying of all the bins and waste disposals.
Partners:
Sustainability is priority of OFCORES
We are assisted by Duurzaam Kantoor and Ecofest to make our event as sustainable as

possible.

We provide our employees, suppliers and partners a sustainable charter with tips & tricks.

There's still a way to go, but the course has been set. OFCORES is more committed than ever to climate, circularity, and communities.
Partners:
Sustainability is priority of BAM
BAM has sustainability at the core of its existence. It is 1 of the 4 key domains in which BAM operates. The sustainability think tank ensures that BAM itself devotes as much attention as possible to sustainability in its activities, but also that the BAM community pays sufficient attention to it.
Sinces '22 BAM is one of the parties involved in CommToZero, a new market project in which we help companies make their communications carbon neutral.
There is still a long way to go, but if everyone pays attention to sustainability we will help each other.